1978 BEECHCRAFT 58P BARON For Sale In Locarno, Ticino Switzerland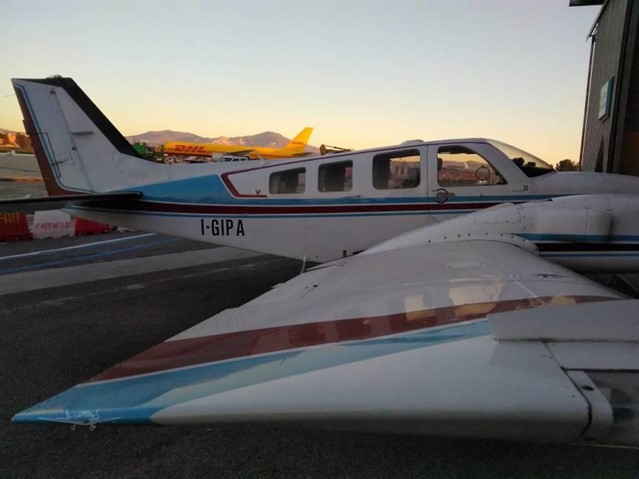 For Sale Price:

$337,352
(Price entered as: EUR €350,000)
Description
Aircraft SN: TJ-148
Specifications
Airframe
Engine 1
Engine 1 Notes
TT: 2112 hrs

Engines, Continental TSIO-520-WB, sn 518645 and 518649
TSOH: 41 hrs
Last overhaul: 22/03/2011
TBO: 1600 hrs/12 years (24 years in Italy)

Propellers McCauley 3AF32521, sn 071550 and 071551
TSOH: 11 hrs
Last overhaul: 25/09/2014
TBO: 2000 hrs/50 years
Installed new in July 2008 Per RAM Aircraft STC
Avionics
Avionics/Radios
GMA340 Audio Panel, Marker Beacon
Avidyne IFD-440, 8.33 kHz, 760 channels NAV COM GPS
1 Avidyne IFD440, 8.33 kHz, 760 channels, NAV COM GPS, touchscreen, WiFi
1 Garmin Garmin GNS430, 8.33 kHz, 760 channels NAV COM GPS
King KY169A COM 3
King RDR2000 Color Radar
Garmin GTX300 Mode S Transponder
Garmin MX20 MFD with Jepp View and Radar Indicator
Sandel SN3500 HSI 1
Sandel SN32500 HSI 2
Bendix IN831A HSI 3
Bendix SG832C Compass System 1
Bendix SG832C Compass System 2
Bendix FCS810 3 Axis Autopilot/Flight Director
Altitude preselect
Sandel ST3400 TAWS/RMI
King KN63 DME
King KR87 ADF
Free Flight TRA3500/TRI40 Radar Altimeter with digital indication and altitude alerter
Revue Thommen AD323235F Air Data Computer with TAT Probe
Trans Cal SSD150-50A Altitude Encoder
Shadin Digital Fuel Computer
L3 Communication Sky-Watch 497 TCAS I
L3 Communication WX500 Stromscope
Artex 406N ELT with Satellite GPS
Davtron Clock on Pilot Control Yoke
Davtron Clock on Co-Pilot Control Yoke
PS-Engineering PAV80 DVD/FM/AM
External Camera
Avionics Innovation Audio Amplifier (4 speakers stereo)
2 Attitude Indicators
2 Altimeters
Inverter No. 1 (115/400 AC): Flytronic
Inverter No. 2 (115/400 AC): A.I.I.

Avionics description:
Information VOR/LOC GPS and Flight Plan 1 and 2 can be visualized either on HSI 1, HSI 2, RMI 1 and Multifunction Display together or separately.
TCAS information and stormscope can be visualized on MFD and HSI 1/2 and TAWS.
MX-20 has Jeppesen View capability and can display approach and airport charts.
Autopilot Heading and NAV modes can be coupled with HSI 1, 2 and 3 performing complete SID, STAR and Flight Plan.
TV camera is located in the bottom of the tail cone viewing front/down and gear and propellers too.
The stereo system is six headphone/interphone (BOSE System) and can accept signals from PAV-80 and AUX MP3 files.
Additional Equipment
Additional Equipment
Surface deice
Air conditioning
Courtesy table
Headset connectors for each occupant
Oxygen system
Strobe lights
Go around switch
Unfeathering accumulators
Instruments light
Control wheel map lights, mike button and ident
Double pitot system eating
Dual control yoke
Oxygen system
196 GA fuel system
Strobe 3 lights system
Tail light system
Propeller thrust detector
De-icing warning ground system
New propellers Mc Cauley low vibration
Exterior
Exterior Notes
White with red and light blue accents
Interior
Interior Notes
6 Seats
Light blue leather seats, white and blue side panels
Light blue curtains
Club seating arrangement
*Notice: Financing terms available may vary depending on applicant and/or guarantor credit profile(s) and additional approval conditions. Assets aged 10-15 years or more may require increased finance charges. Financing approval may require pledge of collateral as security. Applicant credit profile including FICO is used for credit review. Commercial financing provided or arranged by Express Tech-Financing, LLC pursuant to California Finance Lender License #60DBO54873. Consumer financing arranged by Express Tech-Financing, LLC pursuant to California Finance Lender License #60DBO54873 and state licenses listed at this
link
. Consumer financing not available for consumers residing in Nevada, Vermont, or Wisconsin. Additional state restrictions may apply. Equal opportunity lender.
Aviation's Most Powerful Operating Cost Analytics Tool In A Single App
Aircraft Cost Calculator enables users to determine the true operating costs of 500+ aircraft and helicopters in our database.
Get Aircraft Operating Cost Reports Now
Detailed Aircraft Information
Aircraft Performance Data
Payment Schedule
Annual Fixed Costs
Annual Variable Costs
Hourly Cost Analysis
Annual / Monthly Budgets